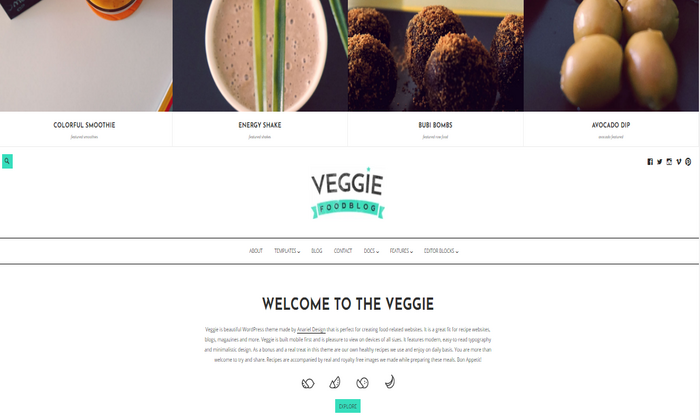 Disclosure: This content is reader-supported, which means if you click on some of our links that we may earn a commission.
Presentation is paramount for blogs. Whether you want to blog as a side hobby or for a business venture, it's essential to find the right platform and theme for your blogging needs.
Luckily, WordPress is one of the largest online content management systems (CMS) and offers many customizable themes for blogs. Different themes will determine how easy it is to navigate your blog.
As WordPress stores over 100 diverse themes, it can be daunting trying to find the right one for you. However, there's no need to worry, as we've narrowed it down and found the seven best WordPress themes for blogs. 
This in-depth guide includes reviews for a mix of free and paid WordPress themes with a methodology for choosing the best theme for your needs.
#1 – Olsen Review – The Best WordPress Theme for Lifestyle and Fashion Blogs
If you are a lifestyle or fashion blogger looking for a place to store all of your content among a focused layout with crisp fonts, Olsen is the perfect theme for you.
Providing a fluid and peaceful reading experience, Olsen is the theme for anyone who wants their images to stand out next to their content.
Olsen is completely customizable and is the perfect place to show off your best work.
Two unique elements this theme offers are a  Featured Content slider and an Instagram footer widget. Both elements are great for sharing your work with readers.
The Featured Content slider is a little different from the average Featured Content add-on. This element allows you to pick up to six images or posts and include them at the front of your blog. The reader can navigate this slider by clicking the left or right arrow.
The Instagram footer widget is unique and doesn't appear in any other theme on this list. This is the perfect add-on for a fashion or lifestyle blogger who wants to showcase their photos. It shows the widget at the bottom of your blog and features your most recent Instagram posts in a large single row.
The downside is for people who want the Instagram feature for free. Unfortunately, you must pay for the theme or buy a plan to use it, but we think this trade-off is worth it.   
You can get started with Olsen today for just $57 or get it for free with a Premium or Business WordPress plan.
#2 – Baskerville 2 Review – The Best WordPress Theme for Most Standard Blogs
If you're looking to start a blog that contains writing, photos, and videos, then Baskerville 2 is the theme for you. WordPress restricts many themes to a particular category, making it difficult for people who want to operate a standard blog.
However, Baskerville 2 is a simple theme that is easy to use and navigate. It has added flexibility that will allow you to use your blog to its full potential.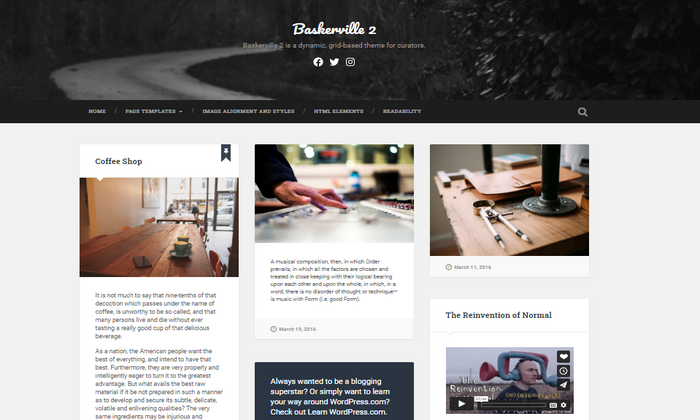 The theme is easy to customize, so you don't have to be tech-savvy to use it. With recently upgraded flexibility, it now comes with a custom menu option just below the header. This allows you to easily add menus that link to different parts of your blog.
Baskerville 2 offers many features, including:
Custom backgrounds
Custom colors
Custom and flexible headers
Full-width templates
RTL Language support
Site logo
Author bio
Threaded comments
Not only does this theme have many helpful features for a standard blog, but it's also free. You can use Baskerville 2 to create an outstanding blog with little investment, which is great if you are blogging as a side hobby. 
With the new upgrades, this theme now supports all content options stored by WordPress. You can choose how you display your content, including choosing to showcase your work in a full post or as an excerpt.
This is a unique option for free themes, but it's significant because customizable displays will make your blog less cluttered and easier to read.
#3 – Hemingway Rewritten Review – The Best WordPress Theme for Photography Blogs

Hemingway Rewritten is the theme made for photographers. As soon as someone enters your blog, it greets them with elegant design and stunning visuals included as part of a featured header image.
The featured header image is perfect for any photographer wanting to share their visuals boldly. WordPress suggests using a decorative background image as the most appropriate header, as the image can vary slightly depending on desktop, mobile, or tablet use.
However, not being able to use any photo for the featured header can be a disadvantage.
Alongside featured images, Hemingway Rewritten supports different post formats such as 'aside,' 'image,' and 'quote.' I found 'image' to be a great format if you want to add images to your blog with a small caption underneath, which lets you tell a story.
Similar to Baskerville 2, the Hemingway Rewritten theme lets you:
Customize your header
Customize your background
Customize your menu
Add sticky posts
Add widgets
However, a unique element of this theme is the parallax-scrolling header. The subtle fade of your header as someone scrolls through your blog adds extra points for presentation.
Hemingway Rewritten gives you a lot of room to be creative as a theme focused on photography. The customizable featured header is one of the most important aspects, as it's the first thing people will see once they enter your blog.
This theme is free for WordPress users, with no limit on customizations or posting.
#4 – Maxwell Review – The Best WordPress Theme for Online Creator Blogs

Maxwell is the most expensive theme on this list, and it's considered a premium theme. However, the price shows how high-quality it is. This modern theme is ultra-clean and is best for online creators.
If you're a YouTuber, musician, or artist, this theme will be the best choice for you as it supports the 'featured content' option.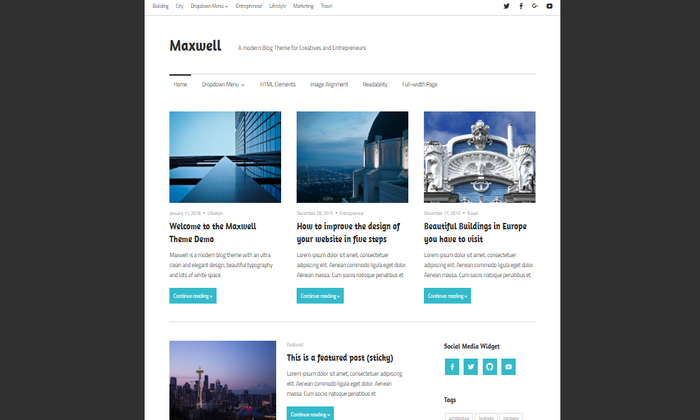 'Featured Content' allows you to highlight your three most important posts at the top of your blog. You can include links to videos, too, which is especially useful for YouTubers and streamers.
Maxwell is an easy theme to navigate, with a separate customizer section for adding a site logo, header, and background.
Alongside the basic features, Maxwell includes:
A mobile-ready layout for any device
Multiple menus
A hashtag section for visibility
A location section where you can add maps
Social media widgets
Since this is a premium theme, Maxwell gives you six free color palettes to choose from. For unlimited customizable colors and typography packs, you will need to upgrade to a premium or business WordPress plan.
If you are a free WordPress user, you can purchase Maxwell separately for $100, which is a little pricey and may be a downside for some. However, you receive this theme for free when purchasing either WordPress plan.
Premium plan: $10 per month
Business plan: $33 per month
If you love the look and features of Maxwell, it would be best to try out the premium plan, as you get advanced design customization at a cheaper price point.
#5 – Escutcheon Review – The Best WordPress Theme for Writing Blogs

Escutcheon is by far the most simple yet effective theme on this list. This theme is best for writers who want to stand out from the crowd.
The theme looks like a virtual journal, with posts listed in reverse chronological order. With bold, large typography, blog posts quickly catch the eye of the reader.
Escutcheon is a minimalist theme that gives just enough information to entice the reader. The font and color palette makes it easy for readers to navigate and read your blog.
As this is a theme for writers, your writing is the main showcase, leaving images on the sidelines. However, Escutcheon supports large featured images within blog posts, displayed beneath the post title if you want to add more life into your blog posts.
Like most WordPress themes, Escutcheon comes with drop-down menus, social media widgets, and customizable headers. However, it also offers:
A 'related' section so readers can find similar blog posts with ease
A search bar
Comment section
Site logo
The only problem with this theme is that it shows widgets on posts instead of your actual blog or archive page.
Escutcheon is another free WordPress theme and is the last free option on this list. This theme is perfect for a blogger looking for a place to share their stories.
#6 – Perle Review – The Best WordPress Theme for Portfolio Blogs

Just as the name suggests, Perle is an elegant theme. If you want to start a blog that showcases your portfolio projects, Perle is the best choice for you.
Similar to Escutcheon and Maxwell, this theme has a simple look and offers different layouts that are super clean.  
Perle keeps your portfolio polished with featured content. You can highlight up to four portfolio pieces, pages, or posts on the front page of your blog with this add-on.
Among features like author bio, site logo, a social menu, and featured images, Perle offers a few unique elements, including:
Overhanging images that let you place an image in the middle of your text
Drop caps that let you enlarge the first letter of your sentence, making your text look super stylish
Subheadings that let you italicize your text, making it stand out
Subtle animation to create a soft fade on your image when a reader is scrolling
Perle is a little cheaper than Maxwell, costing $71. However, you can get this theme for free when purchasing a Premium or Business WordPress plan.
#7 – Veggie Review – The Best WordPress Theme for Food Blogs

Veggie is the perfect theme for the foodie in you. This theme perfectly suits food bloggers or recipe writers who wish to showcase tasty treats and recipes.
This theme comes with easy-to-read typography packs and minimalist designs so you can easily share your passion with the world.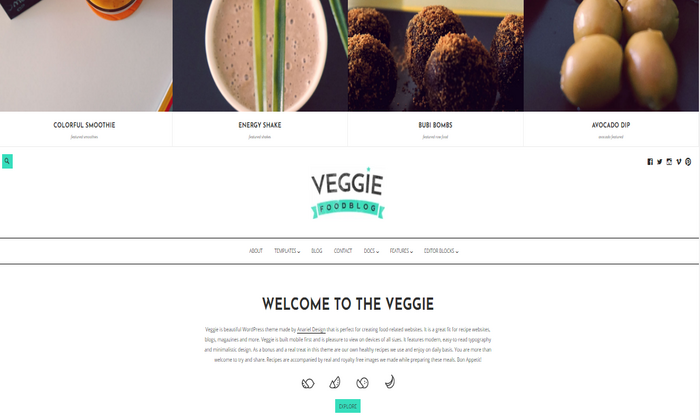 Veggie has a very responsive page and blog layout, which is customizable in seconds. It's easy to read and navigate on a desktop, mobile, or tablet.
This theme has a wide variety of unique options, which is paramount for blogging success. Veggie comes with six different blog layouts and five diverse templates. With these options, you can add a sidebar, grid, list, or full-width display.
Not only is there a wide variety, but Veggie can change into a resourceful restaurant website. This premium theme offers several homepage layouts that let you engage with a whole new audience.
If you're interested in this multipurpose design, Veggie is $86 as an individual theme or free with a Premium or Business WordPress plan.
What I Looked at to Find the Best WordPress Theme
Now that you know our seven best theme recommendations, it's important to understand what matters.
Make the right decision by following these considerations.
Know Your Blogging Niche
It sounds self-explanatory, but it's relevant when choosing the perfect theme. Today we looked at the seven most common blogging niches, and how each theme suited for those niches is different.
When choosing a theme, you must know your blogging niche because you don't want to install Veggie if fashion blogging is your focus. Different niches require different themes with distinct features, layouts, and designs.
I would suggest creating a list of your most passionate hobbies and start there.
Customization is Key
Having a customizable theme is crucial for an easily-navigated blog.
It's okay if you are not interested in investing money into your blog. However, many free themes have limits on customizing, whether for headers, colors, or layouts.
Every theme on this list is customizable to some extent, some more than others, so it's important to look into the nitty-gritty before installing.
Features
Every theme listed here today has some incredible features that work best for its particular niche. However, some themes have more unique elements than others, and it's critical to weigh whether you need them.
Paid themes are more likely to have more unique elements, such as Olsen with the Instagram footer widget, and Perle with the subtle animation.
If you know you won't need an Instagram footer or subtle animation as a writer, it's best to keep your money in your pocket.
Some basic features that are imperative for most blogs include:
Custom colors
Site logo
Flexible display
Classic menu
Widgets
So, make sure you look for these when installing any theme.
Summary
Running a successful WordPress blog isn't easy. Having the right theme helps a lot.
Here's the complete list of my top recommendations:
Baskerville 2, Hemingway Rewritten, and Maxwell are our top three WordPress theme recommendations for a blog.
Two of the three are free, making them very affordable. However, Maxwell is worth the cost if you're looking to invest in a more high-end design with features suitable for professional blogging. All three are easy to use, non-technical, and presentable.
With that said, your niche and blogging needs will dictate the perfect theme for you. However, if you follow our considerations closely, it will make finding a theme that much easier. 
The post Best WordPress Themes for Blogs appeared first on Neil Patel.