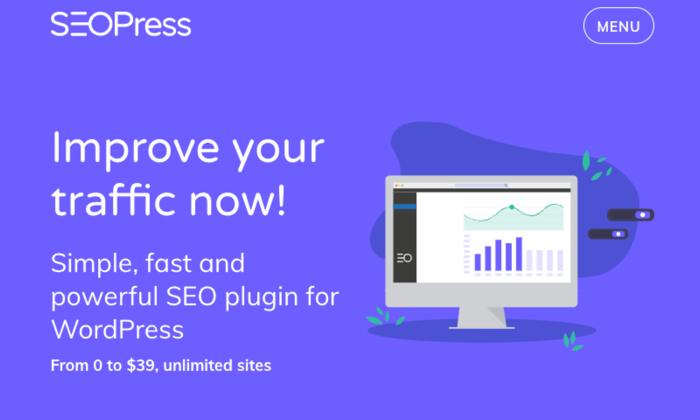 Disclosure: This content is reader-supported, which means if you click on some of our links that we may earn a commission.
Search Engine Optimization (SEO) can be complicated or overwhelming for the average business owner, but it doesn't have to be.
With a decent SEO plugin for your WordPress website, the process of improving the quality and quantity of website traffic will be a breeze. 
An SEO plugin offers you tools and powerful features like audit checklists, sitemaps, and content insights to optimize your website. 
I've compiled a list of the seven best SEO plugins for WordPress options, making it easier for you to find the best plugin to suit your company's needs. 
All seven SEO plugins in this guide are suited for any WordPress website and help you improve engagement and increase traffic. 
#1 – SEOPress Review — The Best WordPress SEO Plugin for Beginners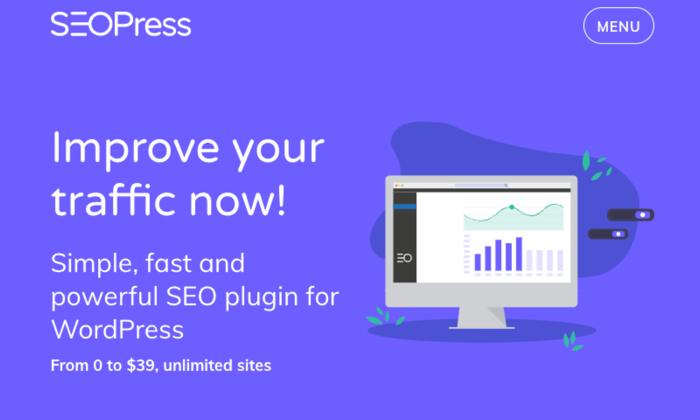 If you're new to plugins and are unsure where to begin, SEOPress is the perfect option for beginners. 
This simple, fast, and powerful plugin will catapult you into the world of SEO with ease, especially considering they offer an installation wizard that helps you install and set up your data. 
What's great about SEOPress is that not only does it cater to beginners, but it offers content analysis with unlimited keywords, even for users on the free plan—making it affordable and inclusive. 
With SEOPress, you'll benefit from core features, like: 
Google knowledge graph
Twitter card to improve social sharing
Meta title/description to save time on content
Video and image sitemap to improve your ranking 
Customizable URL rewrite 
SEOPress offers two pricing plans, including: 
Free: Unlimited sites and basic tools 
Pro: $39 per year with unlimited sites, all features, and one year of upgrades and support
SEOPress offers a 14-day money-back guarantee with no questions asked.
#2 – All-In-One SEO (AIOSEO) Review — The Most Comprehensive SEO Plugin for WordPress 
If you're an experienced SEO expert but are looking for a comprehensive toolkit to help improve your company, AIOSEO is an excellent option. 
AIOSEO is a well-known toolkit with over two million active users to date and offers powerful features that anyone can use. 
Even if you aren't quite familiar with SEO plugins, AIOSEO makes it incredibly easy to use as you can set up your data and integrate your social media platforms without hiring an expert. 
Some prominent features include: 
SEO custom user roles
SEO audit checklist
Smart XML sitemaps 
Exceptional 24/7 customer support 
Another outstanding feature of this plugin is the option to easily optimize your page with a TruSEO score, where you can get a more in-depth analysis of your data with a click of a button. 
AIOSEO offers four pricing plans:
Basic: $99 per year (for one site)
Plus: $199 per year (for three sites)
Pro: $399 per year (for 10 sites)
Elite: $599 per year (for 100 sites)
While there is no free trial listed on the website, AIOSEO does offer a 14-day money-back guarantee on all pricing tiers. Get it here.
#3 – Semrush Review — The Best WordPress SEO Plugin for Keyword Research
Most businesses will find Semrush to be very helpful for everyday SEO tasks and projects, but it especially shines when it comes to keyword analysis. 
As an all-in-one, award-winning tool with multiple data and strategy features, Semrush is the perfect plugin for your WordPress website. Not only can you run SEO, but Semrush also offers content marketing, PPC, and social media marketing. 
With this plugin, you're able to uncover millions of national and local keywords, with no cap on in-depth analysis. Semrush also allows you to analyze domain backlink profiles with ease so that you can stay on track. 
The six keyword research tools Semrush has are: 
Keyword overview: Find out the value and competition of any keyword or phrase
Organic research: Get analysis on your competitors' rankings and pages for organic keywords
Keyword magic tool: A database with over 20 billion keywords
Keyword gap: Compare a keyword to your competitors
Keyword manager: Look at changes for up to 1,000 keywords in real-time
Organic traffic insights: See Google Analytics "not discovered" keywords and cross-reference that and other data
Semrush offers three pricing plans, including: 
Pro: $119.95 per month
Guru: $229.95 per month 
Business: $449.95 per month 
You can also try the Pro and Guru plans before you buy with a free 30 day trial.
#4 – Schema Pro Review — The Best WordPress SEO Plugin for Website Markup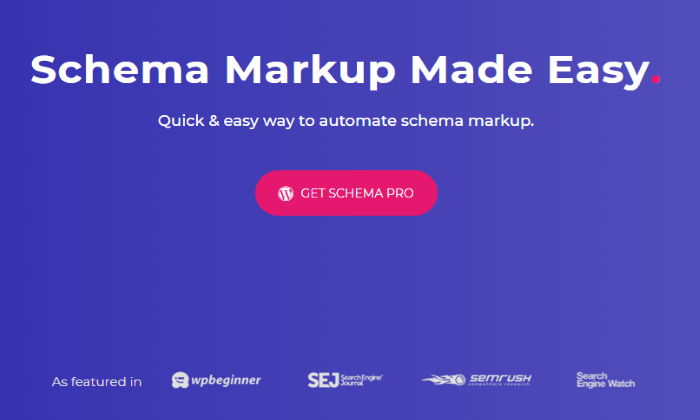 If you aren't great with plugins and need that little bit of extra help, Schema Pro is an excellent and functional option. 
With a simple click and select interface, Schema Pro allows you to install and navigate the plugin easily. 
Schema Pro specializes in website markup, where the software lets you know how your pages should look and work. It's the easiest way for Google to understand the data that is present on your WordPress site. 
The Setup Wizard enables you to automatically map schema to individual pages and posts instead of manually doing it one by one.
With this plugin, you can use its features to optimize your website, some of these features include: 
Markup configurations which are automatically applied
Potential increase in CTR ratings and votes
Includes all post types for functionality 
JSON-LD implementation
Highly optimized Google code 
Intuitive interface that's easily extendable with custom field support 
Schema Pro has two pricing plans, including: 
Schema pro: $79 per year
Agency bundle: $249 per year 
You can also save between 20-30% with Schema Pro's lifetime option and only pay once. Buy it now.
#5 – Yoast SEO Review — The Best WordPress SEO Plugin for Page Analysis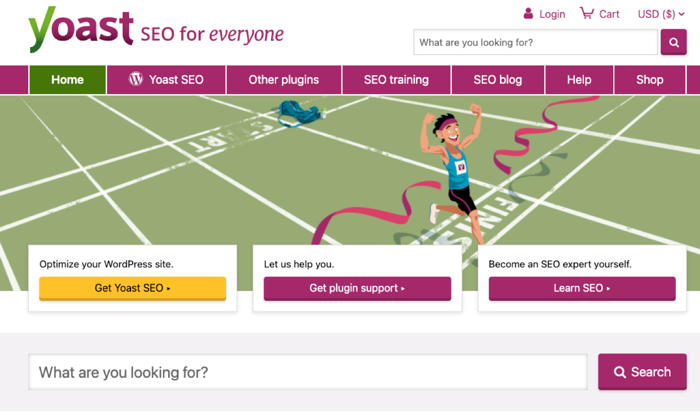 Extra help with page analysis can be scarce in the form of an easy-to-use plugin, however, Yoast SEO offers exactly that. 
The plugin can help you increase engagement and traffic with its unique high-performing keyword feature and automatic keyword optimization, which enables you to save time as there's no need to manually search for keywords anymore. 
You can become your own SEO expert with Yoast's academy courses—where you can receive professional SEO training. Each element of the plugin is easy-to-use, and with personalized SEO training, you can't go wrong. 
Some other helpful features include: 
Content insights 
24/7 support for premium users 
Free support forums
Available in multiple languages for inclusivity 
Social media integration
Yoast SEO offers two pricing plans, including:
Free: Includes free courses, 10 keyphrase queries a day, keyword optimization, and more.
Premium: $89 per year (one site) for no ads, keyword export, integration with Zapier and Elementor, content insights, and more.
Larger companies can save up to 50% by purchasing 150 sites. 
#6 – Ahrefs Review — The Best WordPress SEO Plugin for Competitor Analysis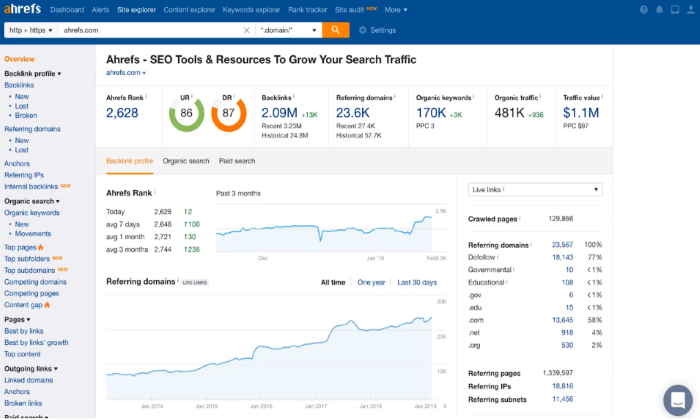 Ahrefs is another all-in-one toolset for SEO that offers many benefits, not the least of which is their in-depth off-page functionality to analyze your competitor's marketing and content strategies. 
With Site Explorer, Ahrefs lets you see organic search traffic and backlink profiles for any and every website. You'll be able to see what keywords they rank for, what pages get the most traffic, what websites are backlinking to the competitor, and where they direct paid traffic.
In addition to your direct competitors, Ahrefs also has a Content Explorer tool to analyze high-performing content in your industry with multiple metrics and advanced filters. Every piece of content has analytics to show you how a page performs and even clicks over time.
These features allow you to study your audience and what they are consuming—and better tailor your content to them. 
Some other features of Ahrefs include:
Site audit
Rank tracker
Alerts on new and lost backlinks, keywords, and mentions
Batch analysis
Domain comparison
There are four pricing plans, including: 
Lite: $99 per month for one user and unlimited projects
Standard: $179 per month for one user 
Advanced: $399 per month for three users 
Agency: $999 per month for five users
The price tag of Ahrefs is its only drawback, but the company does offer a seven-day trial of the Lite and Standard plans for $7, so you can test before you invest.
#7 – WP Rocket Review — The Best WordPress SEO Plugin for Site Speed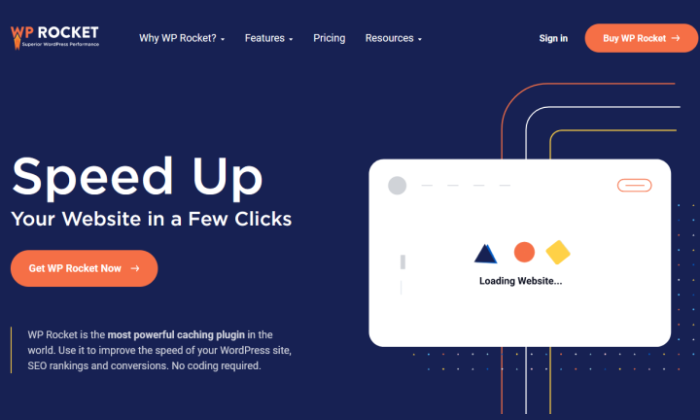 Most people think keywords and search terms when they think of SEO. But Google has said, time and again, that page loading times are a crucial factor in how sites rank.
With WP Rocket, you get a simple, powerful solution for speeding up your website.
That way, your SEO strategy can be certain of quick load times and focus on other areas to gain ground in search engine results pages (SERPs).
It just takes a few clicks to install and activate WP Rocket on your WordPress site. There's no coding required and no settings you need to fiddle with out of the box. WP Rocket is made to hit the ground running as soon as you implement it.
How does it improve your site's speed and loading times? WP Rocket caches your site as soon as it's up and running, immediately unlocking quicker load times for visitors. The plugin even updates the cached version of your pages anytime you make changes.
WP Rocket also includes GZIP compression to shave further seconds off your load times. That way, your web pages are compressed on your server, then decompressed in the browser when a visitor stops by.
That means even sites laden with images and videos will notice significant speed gains with WP Rocket.
Webstores on WordPress need not worry—WP Rocket won't interfere with your shopping cart, checkout, and purchase processes. Plus, it plays nice with just about all the major WordPress themes and other plugins you might be using.
You can treat WP Rocket as a set-it-and-forget-it solution and reap the benefits. Or, you're free to tweak and customize its settings to really make your site lightning fast. You can adjust and optimize your file optimization, preloading, database optimization, and CDN integration.
WP Rocket's pricing scales based on the number of sites you need to implement it on:
Single: $49/year for one site
Plus: $99/year for three sites
Infinite: $249/year for unlimited sites
Take the important first step of speeding up your site, so you can fine-tune the rest of your SEO strategy—get WP Rocket today.
What I Looked At To Find the Best SEO Plugin for WordPress 
Now that you know my top seven best SEO plugins for WordPress, it's time for you to make a decision that aligns with your company's needs.
Identifying these criteria is the most critical part of your decision-making process because it will dictate whether it will improve your website traffic and engagement and inform your strategies. 
Consider the following factors and whether prospective tools align with your personal preferences to make the right decision for your business. 
Keyword Explorer 
An SEO plugin allows you to find keywords to optimize your WordPress site. With that said, a keyword explorer is crucial to the ultimate success of your plugin and website. This is because it makes the act of finding and including keywords much easier. 
When comparing plugins, it's important to do some research on keyword explorer functions and make sure you invest in a plugin that offers one. This function's primary focus is to improve the ROI of your content strategy and receive actionable recommendations.
Also, check if the plugin has a limit on keyword searches and analytics. Without one, you will waste a lot of time manually finding keywords. 
Social Media Integration 
Social media integration is another integral part of your SEO success. Social media integration lets you share to social media more conveniently by storing all your data under one platform—helping you save time and money.
SEOPress offers a customizable Twitter card that helps to improve social sharing. This is a great example of what kind of plugin you should look for to optimize your content to its full potential. 
Customer Support 
Unfortunately, not all free versions of the above plugins offer 24/7 customer support or even particularly efficient support. A simple way to combat this issue is to pay for the premium versions or simply find a plugin that offers customer support for all plans. 
A great example of what you should look for is offered in the Yoast SEO plugin. Yoast has 24/7 support for premium users and a free support forum for unpaid users. This allows everyone to receive customer support if they're feeling stuck. 
Customer support is imperative, as it's common for some issues to arise for people who have little experience with WordPress software. 
Conclusion
My top recommendations for the best SEO plugin for WordPress are AIOSEO and Yoast SEO. To recap the full list:
AIOSEO is the perfect toolkit for an expert looking for extra help, while Yoast has a unique page analysis functionality and is great for any size business.
WP Rocket makes your site so much faster, helping you pass the crucial first test for ranking well on Google.
Semrush offers content strategy features and is affordable. SEOPress is an excellent choice for novices and is very straightforward with some customization options.
Ahrefs offers great customer service, and Schema Pro has diverse functionality. 
No matter what you decide, any tool in this guide will be on the right path to optimize your website and increase traffic.