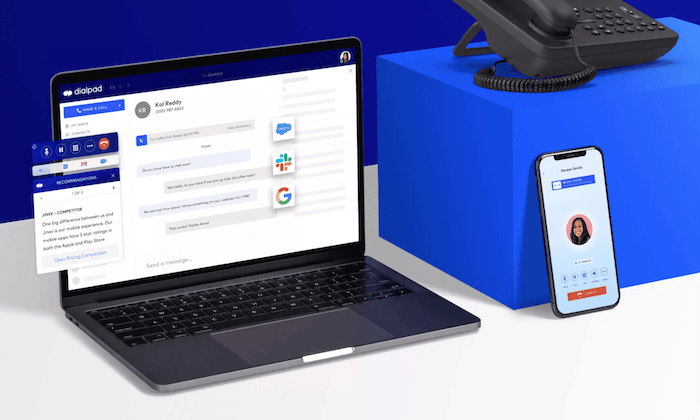 Disclosure: This content is reader-supported, which means if you click on some of our links that we may earn a commission.
Businesses don't want to think about their phone system. They just want it to work.
Dealing with dropped calls, hitting usage limits, paying hidden fees — you can avoid all that with the right solution.
I've put together a list of the seven top business phone systems available today. These are all great systems from dependable vendors, but they have their differences.
Let's walk through my top picks and how to figure out which one is going to work best for your particular situation
#1 – Nextiva Review — The Best for Making the Jump to Remote Work
Nextiva spent most of 2020 helping companies keep their operations running while offices were closed. It's a safe, proven business phone system that works as well in an office as it does for on-the-go and work-from-home employees.
Since the platform is entirely cloud-based, it's extremely easy to deploy. Get set up in minutes and every employee will have unlimited voice and video calling.
One of the reasons I like it so much for offices incorporating remote work is that it's not a one-way street. Nextiva will work with landline phones if you need it to.
In other words, you have the flexibility for people to be in or out of the office without disrupting productivity or the customer experience.
Employees have the freedom to work from any device via the intuitive platform. New users will have hardly any trouble getting on board. The ease-of-use will make the already stressful transition much easier, whether you are aiming for a hybrid office or totally remote one.
Nextiva is actually rated the easiest to use VoIP solution by G2, for those of you keeping score at home.
There are also a lot of features designed to make administrator's and supervisor's lives much more manageable. The admin portal makes quick work of adding new users, and supervisors have access to a rich set of team collaboration tools to get people up to speed.
Whether agents are in the office or working from home, your teams will be able to communicate and troubleshoot issues without a problem. 
Be it sales, service, or just general business needs, everyone benefits with team messaging and an auto attendant that gets calls to the right place faster.
Perhaps the chief reason companies opt for Nextiva is its highly available customer service. You can reach out by email, chat, or phone, 24 hours a day. This is very attractive, as phone support is usually something that only comes with other providers' premium plans.
On-demand technical support is a boon to teams that aren't always in the office. Additionally, Nextia offers superior guidance and training to help your team get the most out of your new system on day one. 
The company will also help you migrate your existing phone number to ensure that your entire system is working as planned. With all but the entry-level plan, Nextiva includes professional implementation as part of the price.
Some of the other key features Nextiva offers for the distributed workforce include:
Team calendar
Screen sharing
Persistent chat
Multi-site support
Real-time status alerts
Video conferencing
Voice to email transcription
Unlimited internet fax
Nextiva is able to support a wide range of businesses with a flexible pricing pricing structure:
Essential is one of the cheapest plans on the market that offers voice, video, text, and fax. If you are looking for an affordable business phone system that supports multiple channels and remote collaboration, this is it.
That said, the Essential plan lacks video conferencing and many of the integrations that make Nextiva such an easy option for remote work. You get integrations with Outlook and Google Contacts, but you have to upgrade to Professional in order to tie in CRM software like HubSpot, Zendesk, and Salesforce.
For companies that don't have a CRM already, Nextiva includes one for free at the Professional tier. I'll note that this tier is only marginally more expensive than Essential.
The other major perk of upgrading to Professional that makes a lot of sense for remote teams is that you get full 24/7 customer support. With Essential, you are limited to support during business hours.
The Enterprise tier includes single sign on, no limits on voice and video conferencing, as well as integrations with Microsoft teams, Oracle Sales Cloud, and ServiceNow. The Ultimate tier includes sales and service productivity features, along with richer analytics and survey tools.
I want to call out the Enterprise plan, which starts at $32.95/month per user, as being extremely affordable compared to similar plans from other providers.
In short, Nextiva is a full-bodied business phone solution that delivers top-quality communications for businesses of any size. In the office, out of the office, it doesn't matter. Nextiva has you covered.
You can try the Essentials plan free for seven days or request a demo of a premium plan.
#2 – RingCentral Review — The Best Deal for Large and Multisite Offices
RingCentral has quickly become one of the most popular service providers in the business communications space. 
They have a wide range of solutions based on company size, industry, and business needs. 
I like it best for large organizations, especially those with multiple locations. Fast growing businesses that need to scale their phone service can stick with RingCentral as they grow.
The company offers a wide enough range of services to fully accommodate most companies today and tomorrow. You can use RingCentral for traditional and cloud phone systems, video conferencing, remote customer service, contact centers, global expansion, and more.
Where it really stands out among the other options for business phone systems are the sophisticated call management and administration features. 
There is a multi-level auto attendant to route calls between specific departments and teams. You can also use extensions of up to eight digits and site codes to simplify routing for companies with more than one location.
The RingCentral admin portal makes it easy to provision new accounts, set up new teams, and monitor service at scale. Whether people are remote or onsite, keeping track of KPIs and usage is easy with its clear reporting.
The RingCentral app allows employees to work from any mobile device or on a laptop with a headset. The intuitive interface plus integrations with tons of popular tools like Microsoft 365, G Suite, and Slack means your teams will have no trouble staying coordinated.
For companies that have already invested in a lot of traditional phone equipment, RingCentral is also a good buy. You can purchase or rent hardware through RingCentral and they have adapters to connect your new system to the public telephone network.
Many of the features you would expect for a full-bodied business phone system are included with RingCentral, as well as some that are designed especially with the needs of large organizations:
Unlimited calling (US & CA) and unlimited texting
Toll-free calling
Visual voicemail and voicemail to text
Team messaging
Document sharing
Hot desking
Quality of service reports
Set up local phone numbers from 200+ area codes
One of the reasons that RingCentral works so well for large businesses is that you never have to pay for more than you need. The different business phone system plans are broken down sensibly at prices that remain extremely competitive:
The entry-level Essentials tier is capped at 10 users and comes at a fairly attractive price for very small businesses, but I want to focus on the other plans, which work for an unlimited number of users.
Standard comes with unlimited voice, video, text, and online fax, as well as essential administrative features to stay organized. It's a very good choice for companies with a single location, regardless of how many phones they need.
Premium includes multi-site  administration and management, as well as a multi-level auto attendant to route calls more effectively across sites. You also get advanced in-call features and CRM integrations to help sales and customer service teams.
The Ultimate tier comes with unlimited automatic call recording, which is a boon for organizations with compliance concerns or potential legal exposure. It also includes device and status alerts to assist admins and supervisors with monitoring critical KPIs at scale.
At the end of the day, larger companies love RingCentral because it decreases complexity and makes everyone's workday a little more streamlined, a little more productive. 
Try out RingCentral free for 15 days to see if it has what you need.
#3 – Ooma Review — The Best Plug-and-Play Phone System for Small Business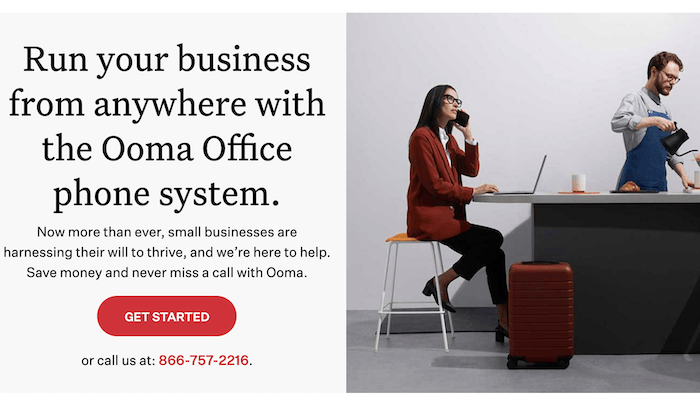 Looking for a business phone system you can start using right away? 
Use your old landline phones, mobile phones, computers, laptops—whatever you have—and Ooma will work beautifully.
The Ooma app can be used as soon as you sign up. If you choose to order desk phones through Ooma or use the ones you already have, the entire activation and setup process takes about 15 minutes.
Keep your existing number, pick a new one, set up a toll-free number, connect online fax—none of this takes any time at all. Now you have a cloud-based phone system that unites all of your tools within a business phone system that works in the office or on-the-go.
From hotels to law firms, auto shops to tech companies, virtually any type of small business can benefit from an Ooma phone system. Fully support desk and conference phones or take advantage of the softphone functionality and set employees up with no more than a headset.
It's easy to take advantage of multi-device ring, conference bridges, overhead paging, and other calling features that streamline workplace operations. Everything can be configured in the app or the browser-based Ooma Office Manager.
One reason I really like Ooma for small business is that you don't need to sign a contract to get the best deal. They will port one number per line for free and there are zero hidden charges.
So that's transparent pricing, no contracts, and access to a robust business phone system with features like:
Unlimited calling (US, Canada, Mexico, and Puerto Rico)
Virtual receptionist
Call management tools
Complimentary toll-free number and 500 free minutes/month
SMS messaging
Ring groups
Extensions, and extension-to-extension dialing
Hold music and transfer music
And that's not even the full list of what's included with Ooma Office, which starts at $19.95/month per line. 
As I mentioned, the pricing is extremely straight forward:
If you choose to upgrade to Office Pro, you get video conferencing, call recording, voicemail transcription, and access to the Ooma desktop app.
Ooma Office is going to be more than enough for many businesses, unless of course they absolutely require one of the key features that come with Ooma Office Pro. 
The price of upgrading is very reasonable, and well below the price of other companies that offer a similar range of services.
Ooma is very dependable. The company offers a 30-day money-back guarantee for their service. You can even return hardware you bought from Ooma for a refund.
If your current business phone system isn't getting it done, give Ooma a try, risk-free, today.
#4 – Freshcaller Review — The Best for Equipping or Upgrading Your Call Center
Freshcaller is a fantastic cloud-based option for companies looking to outfit their call center. Whether they are starting from scratch or upgrading an aging system to a next-generation solution, Freshcaller can be deployed quickly. 
The end result is going to be a much more powerful, much more efficient call center experience for employees and customers alike.
Freshcaller is part of a suite of business tools from Freshworks. I really like every tool this company makes, from Freshdesk for customer service reps to the phenomenal Freshworks CRM.
Along with the software in the Freshworks stack, Freshcaller integrates with a number of popular business tools through the company's app marketplace. This includes CRM software like Salesforce, Zoho CRM, Pipedrive, as well as the best ecommerce platforms like WooCommerce and Shopify.
You are not going to have to reinvent the wheel—Freshcaller lets you keep using the tools that are already helping your agents do more.
With a lot of business phone systems, you have to spend big in order to get the advanced routing and administrative tools necessary to run a call center. With Freshcaller, many of these critical features are included with affordable plans. 
Handle peak calling hours effortlessly, without having to spend all that much.
You get wait queues to manage long lines, as well as call metrics and pre-built reports to keep track of call quality. Agents get a lot of helpful capabilities, such as call notes and call recording.
A particularly clutch feature is warm transfer, which lets agents stay on the line with a customer as they connect to the next agent.
Everything I just listed (and more) is available with a Freshcaller plan that starts at $15/month per user. At the next tier up, which starts at $29/month per user, you get advanced routing features that streamline the work of a larger call center.
This is where Freshcaller really stands out, especially at the price point. You can set up complex phone trees with IVR (interactive voice recognition), that let customers quickly connect with the right department. Agent extensions allow people to connect with the right person directly.
If you need more features still, Freshcaller can help. No matter how intricate your routing needs, you build out efficient call center communication with:
Advanced call queues
Call conferencing
Call monitoring and barging
Agent statuses
Speech enabled IVR
Abandoned call metrics
Call tagging
Smart escalations
Routing automation
It's a robust mix of features that help admins stay organized during the busiest times, and provide supervisors with the tools they need to train new hires and improve conversion rates.
I've said a little about the cost-effective options available through Freshcaller, but let's take a closer look:
With the Sprout plan, you can buy local and toll-free numbers based on your needs and only pay for the calls you make. 
As I mentioned, Freshcaller is the only business phone system I selected that doesn't allow unlimited calling. But the call rates are extremely affordable and you get many more features for less.
Plus, with the Blossom plan and higher, you get free incoming call minutes each month. Blossom comes with 1000, Garden comes with 2000, and so on, up to Forest, which comes with 5000 incoming call minutes free each month.
I recommend the Garden package or higher for call centers, as you get call monitoring, phone trees, agent extensions, and advanced call queues. You will also be able to "bring your own carrier," which means you can use a phone number provided by an external carrier and still get all the functionality included with Freshcaller.
With Estate plans, you get some advanced features that are helpful for supervisors, such as call barging and additional metrics to track performance. 
Forest, the top-tier plan, comes with tools designed for enterprise call centers, including a speech enabled IVR that lets customers raise questions verbally. This can be used for customer satisfaction surveys or to more quickly navigate your system and connect with the right person.
If you really want to empower your agents with quality voice communication, Freshcaller will make it happen. It's not going to cover video or texting unless you upgrade to a Freshcaller omnichannel plan, which is considerably more expensive than Nextiva and RingCentral.
But, if you are focused on voice communications for a call center, Freshcaller is going to stay much more affordable. With Nextiva, for example, you'd have to spring for a top-tier plan to get the complex routing features. With RingCentral, you'd have to inquire about call center pricing.
Freshcaller is an incredibly powerful call center solution that fits into the Freshworks suite and integrates with popular tools. Simple as that.
Try Freshcaller for 21 days. And really test drive it, as you get access to the premium Forest plan during the free trial. Check out every feature, and decide for yourself what's going to make the biggest difference in your call center.
#5 – Dialpad Review — Best for Remote Teams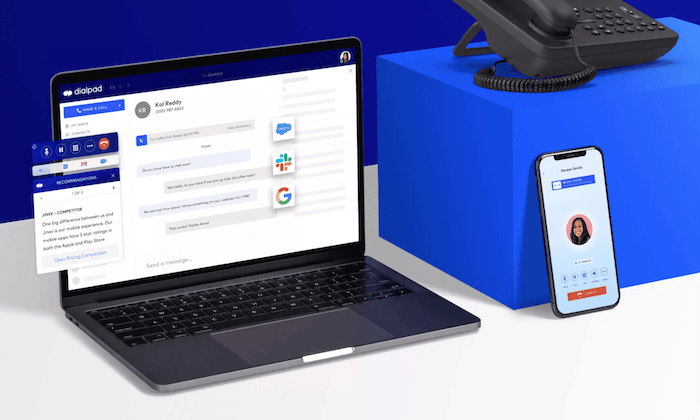 If you are looking for a modern solution that puts the best of voice and SMS communication at your disposal, Dialpad is the solution for you. Leave office phones behind for a flexible cloud system that lets your team connect with their desktop, tablet, or mobile phone.
Like many of the products I've reviewed, Dialpad can be rolled out more or less instantaneously by downloading the app or logging into the online portal. You can use any cloud-based phone system to ditch the phones, but Dialpad provides so much more control and insight that you will never look back after you cut the cord.
It comes down to powerful interoperability and the unique voice intelligence features that come as part of the platform. Let's start off with how well it works with the other tools you use.
Dialpad has integration with Office 365 and G Suite in the lowest tier plan. Usually, you'd need to purchase an upgraded plan to get this benefit, but it's included standard with Dialpad.
What's the payoff? When someone calls, you'll get all the personal info and calendar information associated with the contact. Additionally, you'll see any files you've shared with the contact and the last few emails in your correspondence.
All this information is on your screen the moment someone calls. This streamlines employee workflows and lets them better serve customers. If you charge clients for billable hours, Dialpad is going to make it really easy to keep accurate logs.
Try doing that with your office phone.
And when it comes to voice intelligence features, Dialpad is in a class of its own. Every conversation you have via the platform makes use of natural language processing, machine learning, and state of the art voice recognition.
What this means is that Dialpad improves the more you use it. Call transcripts become more accurate over time as the system learns from your conversations. 
It can distinguish between different speakers—which makes transcripts much easier to follow—and even delivers a live call sentiment analysis that alerts supervisors about how a call is going in real-time.
At the end of every call, Dialpad produces a summary that includes the transcript, as well as any action items, notes, or points of interest identified by the agent. All of the key details are preserved in an easy to digest summary when you look back.
If you want to save money on a traditional business phone system, and supercharge your employees with a much more powerful toolkit, you should explore Dialpad.
Every single plan they offer comes with:
Unlimited calling and texting in US and Canada
Multi-level auto attendant
Custom routing
Online meetings
Three way calling
Automatic spam detection
Analytics and reporting
All of this and much more comes with Dialpad's Standard plan, which starts at $15/month per user:
As I mentioned, you get integration with G Suite and Microsoft 365 with the Standard plan, which is going to streamline the work of many businesses. You also get customer support Monday-Friday as well as access to Dialpad's deep online knowledge base and community forum.
Standard is limited to a single office location. Upgrading to Pro allows for up to 10 locations.
With the Pro plan, you get additional support on weekends and by phone (Standard is web and live chat only). There are also a lot more integrations available at the Pro tier, with popular tools like HubSpot, Salesforce, Zendesk, and Slack.
Despite its next-generation feel, Dialpad can support traditional office phones. This underscores the flexibility of the platform, but I feel like it's going to work best for people looking to ditch the old phones for a cloud-based solution.
Dialpad offers a 14-day trial. If you are on the fence about deploying a softphone solution, I really recommend you give it a shot. Give your employees the tools they need to succeed instantly, let them connect from anywhere, and take your business to the next level.
#6 – Line2 Review — Best For Individuals and Small Teams
Line2 is exactly what it sounds like. It's an app. You download it and now you have a business number that comes into your phone. 
I'm serious. The entire setup takes minutes, even if you want to port your existing number. 
So, go ahead and stop carrying two phones around all the time. Line2 gives you unlimited calls in the US and Canada, unlimited domestic texting, and unlimited toll-free minutes (within the acceptable use policy, of course).
Starting at $12.49/month, Line2 can really save you some money.
Plus you'll never have to give out your personal number to clients. They'll be able to reach you after hours or on-the-go simply by calling your office number.
Or not. You never have to get caught off-guard by a surprise work call in the dead of the night. The Line2 app lets you set days and hours of operation and basic call routing. This will streamline business and improve your work/life balance.
You can have after-hours calls forwarded to a supervisor or straight to voicemail. Customize the greeting so customers know exactly when you'll be back. Voicemail transcriptions and call recording help you keep better track of all your opportunities in less time.
Line2 immediately establishes a professional identity for your business and upgrades your customer experience. 
When people call in, an auto attendant can route their call to you, or another member of your team. Adding and managing additional numbers is just as easy as getting your first one.
I really like Line2 for people that have hit the ceiling with Google Voice and just need more from their business phone system. You don't need to outfit a 50-person office, but you can still benefit from features like:
Caller ID
Call screening
Call merging (up to 99 callers)
Call forwarding
Hold music
Voicemail notifications
Greetings library
Line2 is definitely not intended for large offices, though the app has added a lot of features since it first launched. It's perfect, however, for individuals and small teams that need nothing more than the essential business phone services. 
There are three different plans for Line2.
Starter is the basic package, but it comes with most of the features I've mentioned. Upgrading to Growth gets you the auto attendant to route calls, as well as the call scheduler for out-of-office handling. 
Business, the top tier plan, comes with call recording and voicemail transcription, which are add-ons with the other plans.
Starter is a great choice for individual business owners that are done with not having a dedicated business line. It's near-zero work to set up and you can start seeing the benefits right away.
Growth and Business are going to work really well for a small team. You can handle basic call routing, connecting customers with the right person to streamline workflows and make everyone happier.
If a large price tag and a screenful of features you're never going to use are keeping you from getting a business phone system, Line2 is the elegant solution.
No hardware, no headaches, just an app with all the power you need and nothing you don't.
There's a 30-day money-back guarantee. Running a business off your phone works until it doesn't.
Give Line2 a shot. I'd be surprised if you were willing to go back to the way things were.
#7 – Intermedia Unite Review — Best All-in-One Business Communication Platform
Intermedia Unite is a fully integrated suite of communication tools designed to unify business operations. Although the company offers one of the most dependable business phone systems on the market, it's better described as a UCaaS (unified communications as a service) provider.
Getting all communications centralized in a single platform can help businesses along multiple fronts. It simplifies communications for employees—who no longer have to do wind sprints between different apps—and allows them to deliver a more coherent experience to customers.
It also streamlines internal communication and can dramatically lower costs, as you are not paying license fees on dozens of separate services.
Intermedia Unite brings together voice, video, text, and live chat at an extremely affordable price. It's a fully-functional cloud PBX with over 90 enterprise-grade calling features included at the entry-level tier.
This includes all the call routing and management capabilities you would expect, along with in-call features like whisper, monitor, and barge—which are typically only included with premium plans or call center add-ons. 
High quality integrations also come standard with Intermedia Unite. This includes G Suite, Microsoft Teams, Outlook, Slack, and CRM software like Zendesk, and Zoho CRM.
In other words, you don't have to upgrade your plan in order to truly centralize communications and administration.
One reason I recommend this company so highly is that they provide free onboarding services to help you move all your communication to the new platform.
I'm serious. All onboarding and migration services are included. This will reduce stress, decrease the time of transition, and get your new system set up with zero downtime or data loss.
Another reason I really like Intermedia Unite as a UCaaS is the hardened security. The platform is compliant with HIPAA, GDPR, SOC-2, and payment card industry standards.
This level of security is really important if you are planning on connecting your business resources and tools to the platform. Rest assured that your company and customer information will remain private, even if it's accessible to your workers on-demand.
Intermedia Unite is also packed with administration and collaboration features. Some of the highlights include:
Call report scheduling
Built-in quality of service dashboard
Supervisor analytics
Meeting transcription
File sharing
Screen annotation
1 on 1 instant messaging
Team messaging
It's a true unified communications platform that allows for a seamless workplace experience.
Intermedia Unite starts at an extremely reasonable $27.99/month per user for the all-inclusive platform:
The Unite Pro price is a flat rate that includes unlimited calling and every feature I just mentioned. 
The Unite Enterprise plan allows for larger web and audio conferencing groups and comes with additional integrations, such as Salesforce, ServiceNow, Microsoft Dynamics, and Oracle.
Enterprise also comes with a hosted email, which is an add-on for Unite Pro. That said, if you already have email through Microsoft or Google, Unite Pro will integrate.
The company has an excellent reputation for quality customer service, which comes with all plans. Intermedia Unite support is available around-the-clock to help with any problem. There are short hold times before you can reach a specialist and no "critical issue" standard keeping you from getting help.
Centralizing communication sounds good in a common sense way, but putting it into practice can be extremely difficult. Intermedia Unite gives you the complete set of tools necessary to achieve this goal, and provides the support and onboarding necessary to pull off the transition without a hitch.
Get in touch with Intermedia Unite today for a quote to see just how affordable your new system can be.
What I Looked at to Find the Best Business Phone System
Broadly speaking, you have two choices for business phone systems.
You can use traditional telephone infrastructure. This could be installing a private branch exchange (PBX) on site that allows you to route and answer calls that come into landline phones.
The increasingly popular alternative cuts the cord with landline and uses the internet for communications. You'll see this called cloud-based phone service, cloud PBX, or something along those lines. 
It may also be sold as business VoIP, which stands for voice over internet protocol. VoIP is one of the major technologies that allows for cloud PBX to work.
The marketing lingo you see will vary. Almost none of it matters to you except the decision between:
Traditional landlines
Cloud-based service
I recommend cloud-based business phone systems for anyone with a good internet connection (a must for cloud-based anything). 
It used to be that an old school PBX could do way more than the cloud-based ones, but it's less true every year.
In fact, you are bound to find greater flexibility, features, and integration with cloud-based business phone systems. 
The best part: you don't have to do any of the maintenance. If you have a PBX on site, you are in charge. With the cloud-based systems, your provider will handle all the backend optimization that keeps calls reliable and crystal clear.
Get a few headsets and suddenly everyone's computer or laptop is part of your business phone system. It's way easier and a lot less expensive than outfitting everyone with a phone and hosting your own PBX.
For people buying a new system, or replacing an old one, I highly recommend going with a cloud-based solution.
If you have already invested in a bunch in your landline, vendors on my list like RingCentral can help. They offer all the hardware you need to extend your current system, or upgrade it by adding VoIP. Ooma is a good option for smaller businesses with this need.
Even though the price is better with the cloud-based options, you're not cutting corners. Don't be worried about calls dropping or fuzzy conversation.
Every option on my list has been around the block and grown over time. They provide true professional-quality communication year in, year out.
There's no shortage of competition for business phone systems, and these companies constantly win customers.
While all these products are great, they are very different from one another. Let's talk about the major factors to consider as you choose among the top options. 
Office Size
Business phone systems are a product category where it's easy to get upsold and wind up on a plan that's way more than you budgeted for. 
Know what you absolutely need before you start your search.
A lot is going to depend on how many people need to use the phones. Here are some of the things that I'd be looking at for getting a small office set up: 
VoIP and WiFi calling from your desktop or mobile phone
Auto attendants to greet callers and handle simple call routing
Call forwarding
Call screening
SMS texting
Simple call routing, 
A lot of the entry level plans I looked at include more than this, but these are the essential features you need to establish a professional business identity and communications. 
No more handing out your personal number or asking employees to use theirs. Set up a simple phone tree to let callers connect with the right person. With a business number and call forwarding, customers have no idea whether you are in the office or working remotely.
If you are equipping a larger or fast-growing office, you'll want some of the helpful administrative and internal collaboration features to keep things organized and efficient. These may include: 
Advanced call routing
Video calls and conferencing
Online fax
Call recording
Call monitoring
Dial by extension or name directory
Call analytics
Agent, supervisor and administrator roles
It comes down to your scenario. If you need to outfit a call center or multiple offices, don't try to stretch a lightweight plan. RingCentral is built to scale with you, and Intermedia Unite can effectively centralize all of your company communication.
These options are probably going to be overkill if you just need a business phone line. A product like Line2 will set up a solopreneur or single team just fine.
My recommendation is this—don't pay extra for features you didn't know existed five minutes ago. Stick to the features you know you'll use. If you get a few bonus ones, that's great. But don't fall victim to great marketing by these providers.  
Phone Numbers and Call Charges
Do you want to keep your existing phone number? Are you looking for an 800 number? Vanity number? Toll-free numbers?
Some of you will be looking for all of these; others just want a single line for basic use. Most business phone systems will offer a wide range of different phone number options. But the pricing and offerings vary from provider to provider. 
Most will let you make and receive unlimited calls in the US and Canada. Freshcaller is the only product I picked with charges for calling, though they do offer a set amount of free incoming call minutes each month.
International and toll-free calling rates vary, as do call recording charges, so be sure to read the fine print if you need them.
Another thing to keep in mind is the cost and hassle of porting numbers to your new phone service. This is important if you want to keep the same number for your business.
Some companies will port one number for free, but porting multiple numbers is usually an extra charge. The porting process can take anywhere from a few days to a month or more.
If you have a lot of numbers to move to your new phone system, definitely check out the company's porting FAQs and talk with a sales member. 
This will help to avoid unexpected charges or downtime as your numbers are ported from one service to another.
Painless Deployment
One of the reasons people choose cloud-based business phone systems is because they are incredibly easy to set up. No chunky hardware, no new wires. 
You and your staff can leverage your existing devices. Deployment may be as simple as downloading an app to your mobile phone. This is true, even for large organizations.
RingCentral has a fabulous mobile app for iOS and Android that can empower employees from home. Every user is tied into your account and administration is just as easy as if everyone was in the same office.
If you're looking for a traditional office phone that's sitting on a specific desk with a hardwire connection, then you'll need to buy those phones.
In this scenario, it's usually in your best interest to buy hardware directly from the phone system provider. Hardware is rarely packaged into your plan, so keep that in mind as you're shopping around.
For businesses looking to extend or upgrade their existing traditional phone system, deployment will be a little more involved. 
As I mentioned, Ooma can assist a small business with this and RingCentral is a good option for larger organizations. In fact, RingCentral includes professional assistance in deploying your new system with all but their entry-level plan.
Phone rentals are another option for businesses that need a lot of equipment. 
Nextiva and RingCentral let customers rent phones at a low monthly price instead of paying upfront. Rental options can seriously decrease the initial cost of obtaining a system and you can usually swap out phones for newer technology as you go.
Integration
A business phone system that integrates with the software you already use will save you time and money.
I've talked about how premium business phone systems come with tools to help you stay organized and efficient. What if you are already using G Suite, Microsoft 365, or a customer relationship management (CRM) software that you love? 
Then there's no reason to spend more to create a superfluous collaboration space. That's only going to cause confusion. 
Consider Dialpad's entry-level plan. It integrates with both G Suite and Microsoft 365, tying all your essential phone services into your productivity suite. Effectively, you're getting a lot of benefits of a top-tier plan at bottom dollar.
You really want your phone system to fit in with your current daily workflows. From the selection of cloud-based options I've picked, you should be able to find a solution that plugs right into your digital workplace.
This is especially important for sales and customer service teams. If your business phone system doesn't share information with other platforms, there's going to be a ton of copy/pasting and roundabout communication. It's simpler and quicker to be able to make calls with one-click from your contact list.
Nextiva has a host of integrations and a built-in CRM. This can be a good option for a company that doesn't have a CRM, but Nextiva also integrates with popular options like Salesforce, HubSpot, and Zendesk. There's a ton of flexibility.
Intermedia Unite is my top pick for companies that want to centralize all company communications within a single platform. You get a deep set of features for your business phone system, and it's all unified with video, team chat, and business texting.
Part of the reason Intermedia Unite works so well for so many companies is quality integrations with G Suite, Microsoft Teams, Slack, and CRM software. Centralizing communication is key, but it's got to work with the other tools your team is using. 
Technical Support
The quality of technical support that you receive will go a long way toward improving your company's overall experience with a business phone system. 
You don't want to worry about setting up or using your phone system. And when there's a problem, you need it resolved quickly.
Nextiva offers email, phone, and chat support, even with an entry-level plan during business hours. With higher tier plans you can get full 24/7 support. This is similar to other vendors, though most don't offer such a full range of support channels.
Good technical support is key during deployment, especially if you are getting a bunch of phone numbers and user accounts set up. From ensuring that any hardware you are using is installed properly to securing your cloud-based system, you want expert guidance.
Professional implementation services are offered by some companies, either as an add-on or included with certain plans. 
I recommend exploring this option if you feel like your new system is complex or you have multiple offices. The cost may be well worth it in terms of saving your staff time and frustration.
Ongoing technical support is critical too, as phone downtime causes immediate issues. Intermedia Unite has a tremendous reputation for quality customer service. They include 24/7 technical support with every plan they offer.
Whenever there is an issue, Intermedia will send you an immediate notification via your preferred method, be it email, text, phone, or alerts within your control panel. 
If you have a lot of employees on the phones, consider which vendors offer the most help with training and onboarding. 
Dialpad has an extensive knowledge base, which is a boon for less technically-minded users. Think about how much time can be saved when a supervisor can send a link to vendor support resources instead of having to explain something themselves.
One last note: What does 24/7 availability mean if it takes a day to get back to you? 
Reading online reviews is one way to assess the quality of technical support you are likely to receive, though it's not perfect. 
In my opinion, the best way to get a real sense of what you are going to get is following the links to the vendor's website and get in touch directly. The quality of that first sales call will tell you a lot about what you need to know.
Summary
To say you have lots of options to consider for a business phone system would be a drastic understatement. 
But, by using this guide, you'll be equipped to make the right decision based on your needs. 
In a market that's saturated with phone systems for businesses, I really like the seven options I reviewed:
So start your search there, and use the buying guide I outlined. This will steer you in the right direction. 
The post Best Business Phone Systems appeared first on Neil Patel.